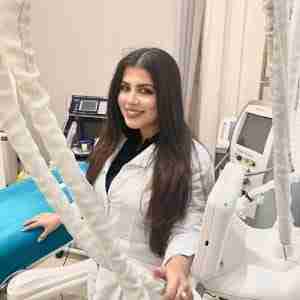 Our nurse is Qualified Aesthetic Clinic Injector has a medical degree, has broad knowledge of  anti-wrinkle injectables – Botox and Dermal Fillers. Waheda has knowledge in medical therapies (Intravenous therapy, phlebotomy, oxygen therapy) Medicine management. Assessing how to combine modern complementary medicine with traditional diagnostics and therapies. Waheda is ambitious, reliable, confident and diligent individual with varied work experiences in different fields/aspects.
Ability to follow up on patient's progress post treatment
Ability to work in a team environment
In-depth knowledge of skin care treatments
Strong knowledge of dermatology
Efficiency and hard work are amongst the attributes Waheda has acquired and improved upon during the past few years. In addition, to performing well under pressure and capability to work effectively in a team, Waheda is able to speak and deal with a variety of people from different background. Waheda believes in her unique work experiences, humanitarian beliefs, interpersonal and organisational skills will enable me to excel in any environment She is placed in.