Wrinkles, sagging, texture, volume, hydration
Dermal Fillers basic treatment informations
Treatments in series*
Individual
Effect duration*
6 - 18 months
*May vary depending on skin condition and other elements
We use dermal fillers to improve the appearance of the skin, improve facial volumetry, eliminate wrinkles and stimulate the production of collagen in a given area of ​​the face. A versatile treatment that can be applied to the mids and lower parts of the face, it helps restore youthful appearance or enhance natural facial features.
The injectable gel contains a high concentration of hyaluronic acid which increases skin hydration.
Increasing the volume to smooth the surface texture of the skin can effectively ease facial wrinkles, including smile lines and lip lines.
By injecting collagen below the skin tissue where it loses its density and the loss of facial volume becomes visible, we can restore the volumetric appearance of sunken cheeks, smooth marionets lines, and lift up the lips. By acting to replenish the lost collagen in the skin, it helps restore a firm and full tissue structure that effectively lifts sagging skin around the cheeks, chin and jawline.
Is Dermal Fillers a treatment for you?
mature skin
skin with signs of aging
visible lines and wrinkles
pregnancy and breastfeeding
skin inflammation
herpes and acne
immune diseases
allergies to hyaluronic acid
psoriasis
improving the appearance of the skin
reducing the number and depth of wrinkles
smoothing the skin
| Area | 0.5ml | 1ml |
| --- | --- | --- |
| Lips filler | £150 | - |
| Juvederm cheek | - | £350 |
| Juvederm chin | - | £350 |
| Hair filler (Dr Cyj) | - | £250 |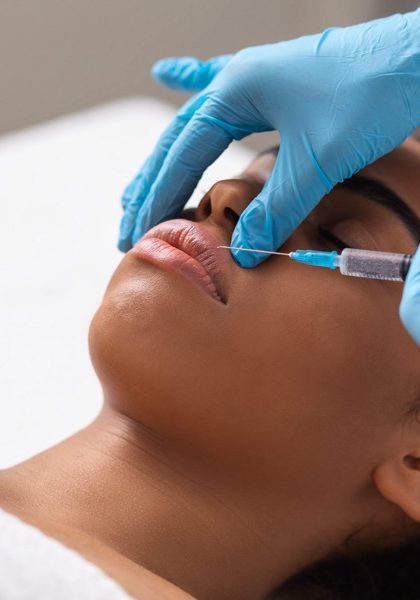 How does the procedure look like?
Injectable wrinkle fillers, unlike Botox injections that relax the muscle under a wrinkle, fill the line, crease, or area with one of several different substances. As a result, trouble spots nearly disappear.
Does the treatment require an anesthesia?
The treatment is moderately painful and it is possible to use an anesthetic cream.
How soon will I see the effects after the treatment?
The effects of the treatment are visible immediately after its implementation.